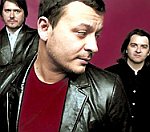 Manic Street Preachers
have unveiled details of a new UK tour, which will begin in Glasgow on May 25th.
The tour will also include performances in Llandudno, London, Wolverhampton and Brighton.
The shows will coincide with the release of Manic Street Preachers new album, 'Journal For Plague Lovers', on May 18th.
Manic Street Preachers UK tour dates are: