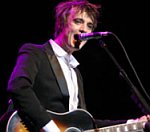 Babyshambles
frontman
Pete Doherty
played through a curfew during a gig in Southampton on Sunday (March 16th).
The singer, who is on a solo tour, wowed fans at the Guildhall with songs from his debut solo album 'Grace/Wastelands'.
But Doherty angered venue bosses when he continued to play on 25 minutes after the power to the stage was cut.
As well as breaking the 11pm curfew, the singer also reportedly broke anti-smoking laws by lighting a cigarette onstage.
He told the crowd that he would forfeit his fee in order to smoke.
One fan told This Is Hampshire that the atmosphere at the gig was "like a football match".
"I've never seen a crowd act like that at a gig," the unnamed fan said. "As we left there was chanting, banging walls and singing."
As previously reported, Doherty will play a special show at the Troxy in London next week.
The singer will also make an appearance on the BBC1 chatshow Friday Night with Jonathan Ross on March 27th.
(by Jason Gregory)