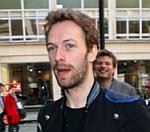 Coldplay
singer Chris Martin has played down reports of a rivalry between his band and
U2
, insisting the Irish group are in "a way different league".
Tabloid reports about a rift surfaced earlier this month when U2's Bono accidentally called Martin a "wanker" during an appearance on Radio 1.
In response, Martin joked that he had "always thought he felt that way", and thought it was "great that we're arch enemies".
Speaking to the Daily Star, Martin denied he had tried to fuel the alleged rivalry by making the comments, "because we are fully aware that we are No 6 band".
He continued: "We are not even No 2. We are always very thrilled when someone even bothers to compare us, but we are 23 years behind them and they are in a way different league."
Bono apologised on air for his "tongue-in-cheek" remark about Martin, and later praised the musician's songwriting.
Martin added that comparing him to Bono was like "comparing a high jumper with an astronaut".
"We are doing all right, but they have gone a lot further and a lot higher," he said.
(by Jason Gregory)