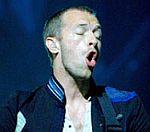 Coldplay
frontman Chris Martin has insisted he wasn't offended after
U2
's Bono mistakenly insulted him on a radio show.
Bono apologised last week after calling Martin a "wanker" during an appearance on Radio 1. He later praised Martin's songwriting.
In an interview with the Melbourne newspaper, the Herald Sun, Martin joked that he had "always thought he (Bono) felt that way".
"I think it's great that we're arch enemies... That's a joke too," he said.
Martin revealed that the group planned to use the U2 track 'Magnicificent', which feautres on their new album 'No Line On The Horizon', as their entrance music.
"We respect any musician, particularly ones who've kept going and not changed line up and have always been good," he said.
"The difficulty of the whole U2 thing is we're only on our fourth record. We're competing with people on their fifth records.
"We're just coming up to where people were making 'Revolver' or 'The Joshua Tree'. We're at a very different stage."
As previously reported, during the same interview last week, Bono also revealed that U2 would begin touring in "early summer".
(by Jason Gregory)