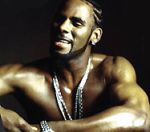 R Kelly
has been awarded $3.4million from his former concert promoter, Leonard Rowe, who failed to pay the R&B star's performance fees.
An arbitrator granted the award last month after R Kelly said he had not received full payments from shows in 2007 and 2008.
Legal documents show that Mr Rowe initially disputed the claims but failed to offer a defence.
R Kelly has now taken the case to a Los Angeles court in a bid to receive payment.
Last month, Ne-Yo was awarded $700,320 in damages from a concert promoter after he was removed from the same tour with Kelly.
(by Jason Gregory)