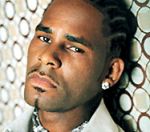 R Kelly
will discuss his 2008 child pornography trial in his forthcoming autobiography.
The US R&B star was accused of filming himself having sex with an underage girl who prosecutors claimed was a young as 13.
He was acquitted of all 14 charges of child pornography following a four week trial in Chicago last June.
Publisher Smiley Books said the book would see R Kelly "talk about the six-year legal ordeal that nearly ruined his life".
"I'm tired of being misunderstood. I will show you the tears, fears and sweat," R Kelly said.
"I will open my heart and reveal the good in my life, as well as all the drama. I want to tell it like it is."
The memoirs, due to be published in 2011, will be co-written alongside David Ritz.
(by Jason Gregory)