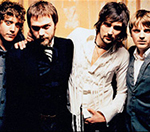 Kasabian
have hit out at the state of the UK music charts saying it's devoid of bands.
Singer Tom Meighan even suggested that the internet has taken "the shine" from rock n' roll as there is too much out there.
"There's no bands in the Top 40 these days, is there? Singles and albums chart - no bands, man," Meighan complained to the NME.
"I think the internet's took the shine off rock 'n' roll. Everything's splintered now.
"When we got signed it's like we jumped on the last boat out of Armageddon."
In a separate interview with clickliverpool.com last autumn, Serge Pizzorno bemoaned the lack of talent left to take up Oasis' mantle as the UK's biggest rock band.
Pizzorno said: "We never actually said we were the biggest band in the UK but what we did say is that now with Oasis splitting up, there aren't many proper rock n roll bands left. Can you name one?
"There are only us and the Arctic Monkeys. All the rest of them have released shit albums or didn't care enough in the first place."
(by Scott Colothan)