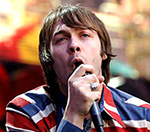 Kasabian
's Tom Meighan has revealed that acting was the most scariest thing he has done.
The frontman, who plays a wannabe seventies wrestler in a new TV sitcom 'Walk Like A Panther', said playing in front of thousands and Glastonbury was easier.
"I loved it but I was s*itting myself first of all. When I was driving on set I was thinking, 'F*ck f*ck f*ck'. It was more nerve-racking than playing Glastonbury," Meighan told The Sun.
He added: "Kasabian and the music comes first. Having said that, if someone said they were remaking Labyrinth I'd be quite up for playing the part of the Goblin King."
Stephen Graham is playing the lead role in Walk Like A Panther. The TV series has yet to secure a broadcaster.
Meanwhile, Kasabian's new album is going to be "Nothing like" 'West Ryder Lunatic Asylum' says Tom Meighan.
(by Holly Frith)