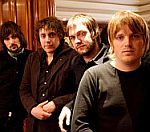 Kasabian
are putting the finishing touches to their fourth album, their record label has confirmed.
A spokesperson for Sony/BMG said the group were currently in the mixing stage of the follow-up to 2009's 'West Ryder Pauper Lunatic Asylum'.
Guitarist Serge Pizzorno told thisisleicestershire.co.uk that the album, expected to arrive in October, was "epic" and uplifting.
"It's big songs that make you feel like anything's possible. It's a really positive record," he said. "I suppose it's a combination of all three records but we've just taken it a bit further."
He added: "I'm excited about playing it live - there are tunes on there that are going to take people to a new place."
Kasabian are scheduled to play a number of festival dates this summer.
(by Jason Gregory)