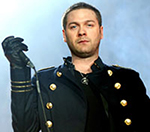 Kasabian
's new album is going to be "Nothing like '
West Ryder Lunatic Asylum
'," says Tom Meighan.
The frontman revealed the new musical direction for the band: "If people are expecting 'West Ryder…' or 'Underdog' they've got another thing coming because it's nothing like the last record. We're not the same band anymore. We always keep changing." Meighan told Absolute Radio.
He added: "It all stems from Serge. He plants the seeds and this sort of giant beanstalk starts forming then we take it in the studio."
Meanwhile, Kasabian are set to headline the Isle of Wight Festival 2011 alongside Pulp, Foo Fighters and Kings Of Leon.
Tickets for the festival are on sale.
(by Holly Frith)