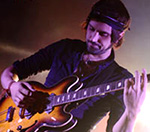 Kasabian
guitarist Serge Pizzorno has written to score for Keira Knightley's new movie London Boulevard.
Pizzorno has recorded a host of original compositions for the film, which also stars Colin Farrell and Ray Winstone.
Directed by William Monahan, London Boulevard tells the story of a man newly released from prison who falls in love with a reclusive movie star.
The movie, which is adapted from the novel by Ken Bruen, is due to be released in cinemas on November 26.
Meanwhile, Kasabian are currently on hiatus ahead of starting work on their forthcoming studio album.
(by Jason Gregory)