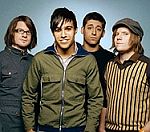 Fall Out Boy
have decided against releasing their new album, '
Folie a Deux
', on the same day as the US presidential election.
The band had originally said "it would be fun" to release the album on November 4th because it contains songs which are "relevant to the candidates".
But they have now pushed it back until December 16th.
In a statement on their website, Fall Out Boy said: "This is not the election to be cute. This is the most important election of our time.
"We felt as though rather than making a commentary we were only riding the wave of the election.
"This seemed less and less like what we intended to do and more of a gimmick."
As previously reported, 'Folie a Deux' features collaborations with Lil' Wayne and Blondie's Debbie Harry.
(by Jason Gregory)