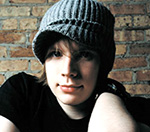 Fall Out Boy
star
Patrick Stump
has shed weight ahead of the launch of his solo career.
In an image posted on the website poisonivyjones.blogspot.com, Stump can be seen wearing a slim-fitting suit.
Stump's album 'Soul Punk' is due out in February and the singer said it operated "between the margins" of different genres.
"I'm just as pissed off as I was while screaming in punk bands, but I feel like I'm directing it into something positive and centered around love," he added.
'Soul Punk' has been written and produced by Stump himself, and the singer also plays all the instruments.
(by Jason Gregory)