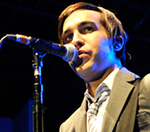 Fall Out Boy
bassist Pete Wentz has played down reports that his new side-project is a reggae band.
In a recent interview, Wentz said Black Cards' debut album would be a combination of reggae and British electro-pop music.
But he has now insisted that the group's material resembles "global music".
"I think it came off as though it was gonna be a reggae band ... that's not true," he told MTV News. "It's a mashing together of ideas — the first few pieces we put up were more big-band/jazz/dance, [but] I don't know how to describe it.
"There are a few songs that have more of a reggae swing to the beat. I think I meant that I'm interested in making global music."
He added: "I like the idea of art transcending cultures and borders ... [but] who knows whether I can."
As previously reported, as well as Wentz, Black Cards includes the relatively unknown singer Bebe Rex.
Two song snippets are available at www.bl4ckc4rds.com. The group are expected to tour later this year.
(by Jason Gregory)