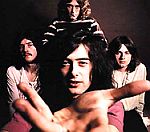 Led Zeppelin
's seminal 1971 classic 'Stairway To Heaven' has been named as the UK's favourite rock anthem.
The prog-rock epic is one of three Led Zep songs to make it into the top ten in a listeners' poll conducted by radio station Absolute Classic Rock.
The thousands of listeners also placed 'Whole Lotta Love' in fourth spot and 'Rock n' Roll' at six.
'Won't Get Fooled Again' by The Who narrowly missed out on the top spot, while Queen's 'Bohemian Rhapsody' came in at number three.
Deep Purple, Free, The Rolling Stones and The Beatles also appeared in the top ten.
The top ten was as follows: