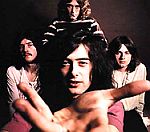 Led Zeppelin
drummer Jason Bonham has revealed that the band almost reformed without singer
Robert Plant
.
Bonham, who is the son of the band's original drummer John, said he worked with guitarist Jimmy Page and John Paul Jones for a year on new material.
But he suggested that a disagreement between the pair had halted the project.
"It got as close as you could get," he told MusicRadar. "It got real close. You know, we did a year of writing and putting stuff together.
"I loved working with Jimmy and John Paul. It was so much fun."
Alluding to the reason they stopped, the drummer added: "I think…basically, they agreed to disagree. After a while, it was just time to move on."
Bonham also confirmed that they had road-tested a different singer, but denied reports that it was Myles Kennedy of Alter Bridge.
"There was somebody else," he said. "Somebody else was involved - and that's all I'll say to that.
Calls for another Led Zeppelin reunion have been constant since the band's one-off appearance at London's O2 Arena in 2007.
(by Jason Gregory)