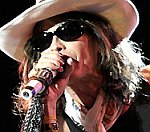 Aerosmith
singer Steven Tyler has revealed that he turned down the opportunity to join
Led Zeppelin
.
Tyler turned down the chance to replace Robert Plant as Led Zeppelin's frontman. The singer was asked to audition for the band by Jimmy Page's manager Peter Mench.
"He [Mench] said Robert wouldn't play with them again, and would I want to come over and jam with the guys? I went over and played," Taylor told Howard Stern Radio Show.
He added: "[I said] 'No.' I'm in Aerosmith. He's in the biggest band in the world and I'm in a band like that. I have such an allegiance to my band and I love it so much."
Meanwhile, Steven Tyler has said he wants to start working on a new album but that he can't locate guitarist Joe Perry.
(by Holly Frith)