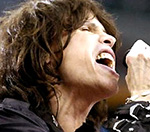 Aerosmith
frontman Steven Tyler has said that they will begin work on their new album this weekend.
Tyler, who is a judge on the new series of American Idol, said the group planned to record the follow-up to 2004's 'Honkin' On Bobo' in Los Angeles.
And he told reporters he didn't envisage his appearance on the reality show would get in the way of his role in the band.
"We're already booked for a tour for November-December, that should be South America and Japan, so what you hear in the press of Aerosmith getting in the way of American Idol, it just isn't so," he said.
Earlier this month, Tyler claimed recording sessions maybe delayed because guitarist Joe Perry had gone "missing".
American Idol started in the US on Wednesday (January 19).
(by Jason Gregory)