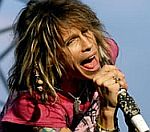 Aerosmith
's future was only secured following a crisis meeting earlier this year, its has emerged.
The group met up in February to discuss a tumultuous past few months, which saw singer Steven Tyler admitted to rehab in December.
Tyler then threatened legal action against his bandmates in January after it emerged that they were looking to replace him with a new singer.
Bassist Tom Hamilton said the four-piece arrived "all lawyered up" to the talks, and that it "took a while" before issues were resolved.
"There was a lot of sort of reconciling and processing feelings and stuff," he told the Boston Herald.
"Everyone said how they wanted things to be in the future and it became clear that, for everybody, the coolest thing to do would be to resolve things with the band."
Hamilton also revealed that the band had vowed to go "on strike" until Tyler addressed his problems.
As previously reported, Aerosmith will headline this summer's Download festival in Donnigton alongside AC/DC and Rage Against The Machine.
The group are also set to play a one-off show at London's O2 Arena on June 15.
Tickets are on sale now.
(by Jason Gregory)