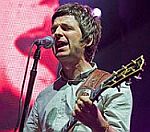 Oasis
guitarist Noel Gallagher has joked that if his brother, Liam, is arrested he will have more time to record a solo album.
The guitarist has often spoken about his ambition to release a solo project – and last year performed a series of solo shows around the world.
However, his commitment to the rock band has so far prevented him from finding the time to record an album.
In an interview with Billboard, Gallagher said : "I'm going to do one sooner or later - hopefully sooner rather than later.
"I'm kind of hoping Liam might be arrested soon, and then I'll have time to see it through."
Galalgher also told the magazine that he had written and demoed the follow-up to the band's new album 'Dig Out Your Soul'.
He said the new material differed greatly from the tracks on the band's latest album.
"There's stuff about soldiers and religious people and rock stars and travellers. They seem to be all songs about people, but not people I know," he said.
"And they all seem to have a narrative; it's kind of like a story which follows on from song to song."
(by Jason Gregory)