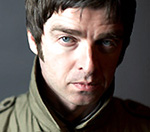 Former
Oasis
guitarist
Noel Gallagher
has praised the artwork of LS Lowry and called for it to be more readily available.
The singer has backed a campaign launched by Sir Ian McKellen for the Tate gallery in London to display the artist's paintings.
In a new documentary, Gallagher spoke about the impact the painter's work had had on him when asked when he first saw Lowry's work.
"I can't remember, it's just like someone saying to me 'When was the first time you heard the Beatles?' Lowry's always been there," he said.
"There's other stuff like the mad paintings with the mad eyes, they all look like alcoholics to me... I guess all the people he ever met were in there somehow....I find it amazing that an artist that's got such a strong identity is still not accepted..."
The documentary Looking For Lowry is due to premiere later this year to mark Lowry's 35th anniversary.
(by Jason Gregory)