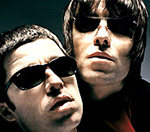 Orlando Bloom has revealed that his character in new film Sympathy For Delicious was inspired by
Oasis
brothers Liam and Noel Gallagher.
The actor plays the frontman of The Stain in the movie, which has just premiered.
When asked how he developed the character, Bloom told OK: "I was thinking of Ian Brown, lead singer for The Stone Roses and the Gallagher brothers from Oasis.
"A lot of the great British bands come from the North of England.
He added: "Those guys particularly, the Gallagher brothers and Ian Brown, have got this real attitude, arrogance and confidence that they are the best band in the world and everyone needs to know that and I really thought that lent itself to The Stain."
(by Jason Gregory)