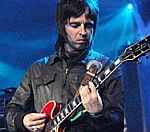 Oasis
guitarist Noel Gallagher has called plans for an Oasis musical "ludicrous".
Speaking to BBC 6Music, the guitarist said the proposed production had been tentatively entitled, Live Forever: Oasis the Musical.
"It would be funny to have that theatre with Freddy Mercury in front, a big Liam with his hands behind his back," Gallagher said.
"Live Forever, aka Mad for it – the musical. The rags to riches story of four lads from Burnage who shook the end of the street."
Oasis are currently on a UK tour in support of their new album 'Dig Out Your Soul'.
(by Jason Gregory)