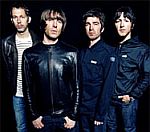 Oasis
' Noel Gallagher has revealed that the band have dropped 'Live Forever' from the setlist for their UK tour, which begins tonight in Liverpool.
The guitarist said he understood there would be a "massive backlash" at the decision to drop the song, which was the third single from their debut album 'Definitely Maybe'.
But it was necessary, he said, because "if we were to play every song the fans demanded we'd be like Bruce Springsteen playing over three and a half hours."
Gallagher told the BBC that his decision had originally gone unnoticed by the rest of the group expect for new drummer Chris Sharrock.
"He said, 'Are we not going to do 'Live Forever'?'. I was like, 'Do you know what? I hadn't even noticed'," Gallagher said.
"I was like, 'Shall we do 'Live Forever'?' and everyone was like 'I don't know. Do you miss it? I don't miss it'.
"One thing that annoys me about the live version of that is Liam refuses to sing the falsetto so it's quite ludicrous that we've got away with that for 10 years. Anyway all the fans can go and play it afterwards."
(by Jason Gregory)