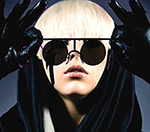 Lady Gaga
has been named as one of the most influential stars on the planet by TIME Magazine.
The annual feature by the American publication picks 100 people "who most affect our world"
Praisinghewr friend, pop star Cyndi Lauper called Lady Gaga "an inspiration to other artists" and added: "She isn't a pop act, she is a performance artist. She herself is the art. She is the sculpture."
Other music stars included were country sensation Taylor Swift, Prince, Sir Elton John and X Factor mogul Simon Cowell.
The magazine praised Cowell for having "an indelible impression on global pop culture."
Other inclusions are talk show host Conan O'Brien, Sarah Palin, Twilight actor Robert Pattinson, Oprah Winfrey, Ashton Kutcher and James Cameron.
As well as 'artists', the top 100 also has categories for leaders, heroes and thinkers.
(by Scott Colothan)