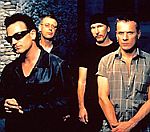 U2
's long awaited new studio album will be released in the New Year, a spokeswoman for the band has confirmed.
The band are still recording the as-yet-untitled album, the follow-up to 2004's 'How To Dismantle An Atom Bomb', in Dublin.
"We still don't have a release date for this album, the band are still working,"she told the Telegraph.
"It might be early in the New Year."
Last month, U2 frontman Bono promised that the album will be their "best ever".
"We know we have to emerge soon but we also know that people don't want another U2 album unless it is our best ever album," he wrote on the band's website.
As previously reported, four songs purported to be from the album were posted on YouTube recently after a fan recorded the singer playing them to friends in France.
(by Jason Gregory)