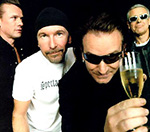 U2
's 360 world tour will become the highest grossing tour in history this weekend.
The band will pass the $558million total grossed by The Rolling Stones' Bigger Bang tour when they play the second of two shows in Sao Paulo on Sunday (April 10).
U2's jaunt has shifted over 7 million tickets at 110 gigs, also making it the highest attended tour ever.
Manager Paul McGuinness told Billboard setting the biggest tour ever record was something the band are "very proud of having set".
He added: "And to set it with a further 20-plus shows to go on the tour is kind of mind-blowing. It means that it's a record that will probably never be outstripped."
The 360 Degree tour returns to North America on May 21. U2 will headline Glastonbury this summer.
(by Jason Gregory)