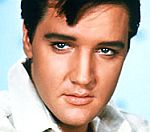 Elvis Presley
was the top earning dead celebrity in 2007, according to Forbes magazine.
The singer, who died in 1977 aged 42, earned $52million last year, more than living contemporaries Madonna and Justin Timberlake.
Presley topped the list for the second year in a row thanks largely to the thousands of people who visited his Graceland estate to mark the 30th anniversary of his death.
The annual Forbes top-13 researched dead celebrities gross earnings from October 2007 to October 2008.
Australian actor Heath Ledger, who died of an overdose in January, was a new entry.
Ledger's role in Batman: The Dark Knight is thought to have earned the actor $20million over the last 12 months.
Marilyn Monroe, Marvin Gaye and actor Paul Newman also featured on the list.
(by Jason Gregory)