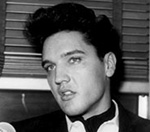 Elvis Presley
's former physician Dr. George 'Nick' Nichopoulos claims in a new book that The King died from chronic constipation.
It's widely perceived that Elvis died in 1977 from an irregular heartbeat condition called cardiac arrhythmia caused by drugs, obesity and a weak heart.
However, in his explosive book, 'The King and Dr Nick', the doctor divulges a new theory on the cause of Elvis' death – untreated constipation.
After explaining that he didn't realise Elvis' constipation was so bad until the autopsy, Dr Nick wrote: ""The constipation upset him quite a bit because Elvis thought that he could handle almost anything, he thought he was really a man's man and he wasn't going to let something like this.
"He thought that this was a sign of weakness and he wasn't going to be weak.
"And it's not the kind of thing you table talk. Back in the '60s and '70s you didn't' talk about constipation much, you didn't' hear people complaining about it, or saying what they did or how much trouble they had with it."
Dr Nick explained they offered Elvis a colostomy – the removal of part of the colon – but The King stopped him.
"He would get embarrassed, he'd have accidents onstage. He'd have to change clothes and come back because of the way we were trying to treat his constipation," Dr Nick said.
"So if they had done the colostomy then, he'd probably still be here. But it wasn't acceptable treatment at that time. Now the treatment is short."
According to the Dr Nick, the autopsy revealed that Elvis' colon was more than twice as wide as the average person's while it was eight to nine feet in length – compared to the norm of four to five feet.
(by Scott Colothan)