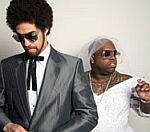 Gnarls Barkley
will release an EP containing new material and live tracks next month, it's been announced.
The EP, released on November 11th, will include the new song 'Mystery Man' and four versions of 'Who's Gonna Save My Soul', a track from the duo's last album, 'The Odd Couple'.
A live version of 'Neighbours', which was recorded at the 40 Watts Club in Athens, is also included on the EP.
Gnarls Barkley shot to fame off the back off the 2006 single 'Crazy'.
(by Jason Gregory)