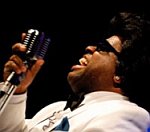 Gnarls Barkley
singer Cee-Lo says he hopes to work with
Oasis
in the future to make 'iconic' music.
The 35-year-old revealed that he spoke to Oasis linchpin Noel Gallagher on a recent trip to the UK and was inspired by the meeting.
Together with his Gnarls Barkley co-star Danger Mouse, Cee-Lo believes the two acts could make something special together.
He enthused: "I've been checking out the new Oasis album and it's hot. When I was in London I got to hang out with Noel and we had a big laugh. I'd like to do something iconic with them."
(by Scott Colothan)