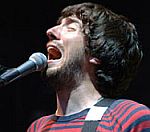 Snow Patrol
ended a whirlwind album launch tour last night (October 27th) with a packed out show in London's Bloomsbury Theatre.
The hour-long performance to launch new album, 'A Hundred Million Suns', followed similar gigs in Edinburgh, Dublin and Belfast over the course of 48 hours.
The Scottish five-piece played a selection of material from the new album and the best of the back catalogue, including 'Chasing Cars', 'Chocolate' and 'Run' to a delighted audience that were out their theatre seats and on their feet by the end of the secondtrack.
Frontman Gary Lightbody seemed exhausted and elated to be at the end of the launch.
He joked amiably with the audience throughout the performance, encouraging sing-a-longs and dancing, and thanking everyone for their continued support.
'A Hundred Million Suns' is Snow Patrol's fifth LP. Collectively the band's albums have sold over seven million copies worldwide.
(by Hazel Sheffield)