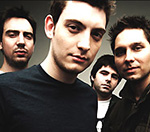 Snow Patrol
have revealed that their next album will feature elements of electronica.
The Irish group are due to start work next month on the follow-up to 2008's 'A Hundred Million Suns'.
Keyboardist Tom Simpson has said that fans should expect a change of direction away from the band's rock foundations.
"Well, I don't know about techno but certainly it'll have an element of electronica about it," he told Spinner.
"I've been buying some really interesting equipment which I hope will get used on the new record. There will be a heavy dose of electronica."
Earlier this year, drummer Jonny Quinn said Snow Patrol's new album would be released between February and July next year.
(by Jason Gregory)