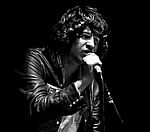 The Kooks
' frontman Luke Pritchard has said he's in talks to star in a new American horror movie.
The film, which is being directed by an unnamed female director, is described as "really cheesy" with "a bit of Paris Texas thrown in".
Speaking to the Sun newspaper, Pritchard said he wanted to experiment with different career options before the band reconvene to record their third album.
"The new album won't be out until the middle of next year as I've got a few things I want to work on first," he said.
"I felt like we were rammed down the British public's throats for so long I really think we need a long period of time away."
Talking about the film, Pritchard added: "It's a scary horror B type film. It's going to be really cheesy but fucked up with a bit of Paris Texas thrown in. It sounds great. I think it will be fun to try out something a bit different."
The singer also revealed that he and guitarist Hugh Harris were planning a new side project, which will include a collaboration with Beirut.
(by Jason Gregory)