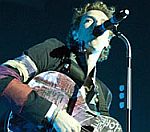 Coldplay
played songs from their new album '
Viva La Vida or Death and All is Friends
' during an open air concert in London last night (June 18th).
The gig, broadcast live one BBC television, was the second time that the band have played the capital this week.
Dressed in their Military outfits, the band began their set with 'Life In Technicolor', the song that opens their new album.
The concert once again saw Chris Martin on jovial form, at one point asking how many of the crowd had come to see Coldplay because they couldn't get tickets to the Weakest Link.
As previously reported on Gigwise, the band are expected to score a chart double this weekend, with both their album and its title track set to top the charts.
'Viva La Vida' is already one of the fastest selling albums of all time, selling 302,000 copies in just three days last week.
(by Jason Gregory)