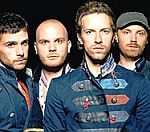 Coldplay
are set to co-finance Ray Winstone's new film 'Ashes', it has been reported.
The band, who are currently working on the follow-up to their 2009 album 'Viva la Vida or Death and All His Friends', will help finance the up-coming film.
'Ashes', described as noir thriller, is being directed by Mat Whitecross who has previously worked on a number of Coldplay videos, the Daily Record reports.
Chris Martin and the rest of the band will also serve as executive producers on the film.
A release date has yet to be confirmed.
(by Holly Frith)