June 30, 2008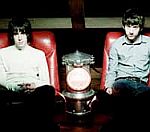 Jack White joined The Last Shadow Puppets for a special Park Stage cameo last night. The White Stripes man joined Alex Turner and Miles Kane for a set-closing cover of Billy Fury's 'Wondrous Place'.
Read more >>

June 30, 2008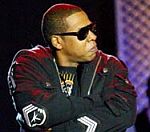 Jay-Z proved all the critics who said Hip Hop won't work at Glastonbury wrong by providing a showstopping spectacle as he headlined the Pyramid Stage last night. As rumoured, the Hip Hop star came out to the words of Noel Gallagher criticising him. However, it did not just stop there.
Read more >>

June 30, 2008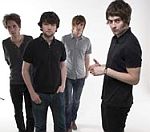 The Courteeners have revealed they are nearly ready to complete work on their second album. Speaking to Gigwise on a bench at Glastonbury, before their appearance on the John Peel stage yesterday, Liam Fray expained the band had around eight or nine new songs that had been completed and would be heading into the studio on Tuesday.
Read more >>

June 30, 2008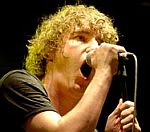 The Pigeon Detectives believe their live shows are perfection, they told Gigwise before taking to the Other Stage this evening. The Yorkshire band's singer Matt Bowman said: "We haven't got any surprises lined up. I'm a bit worried it's the Glastonbury thing.
Read more >>

June 30, 2008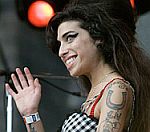 A huge crowd of all ages gathered in front of Glastonbury's famous pyramid stage last night to see Amy Winehouse perform, which culminated in her punching a fan in the front row. The troubled singer, who is suffering from emphysema and suspected lung disease, looked frail and distinctly orange-tinged as she took to the stage, teetering on heels in a tiny black sequinned dress.
Read more >>

June 30, 2008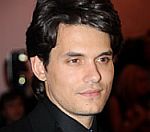 John Mayer covered songs by Duffy, George Harrison and Cream this evening as he took to the Pyramid Stage at Glastonbury. The singer, who is currently dating Jenifer Aniston, announced that he had "fallen in love" with European festivals after recieving a warm welcome from the sun-soaked crowd.
Read more >>

June 30, 2008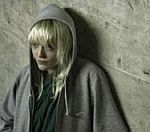 An unusually cheerful Laura Marling played an astoundingly good set to an adoring crowd on the Park Stage at Glastonbury this afternoon. The young star pulled in a huge audience that danced jubilantly in the sunshine, threw inflatables and blew bubbles throughout the performance.
Read more >>

June 30, 2008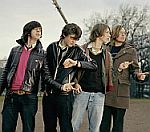 Mystery Jets played Glastonbury's most love-filled set at The Park Stage this afternoon. The rejuvenated Eel Pie Islanders were in affectionate mood, with guitarist William Rees declaring 'I love you, i really do.'
Read more >>

June 30, 2008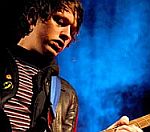 The Whip took time out to talk to Gigwise about their favourite festival today, fresh from a high energy set on the John Peel stage at the earlier-than-scheduled time of 1pm. The Mancunian four-piece whipped up considerable excitement from the crowd, despite the fact that most punters were looking slightly fatigued due to it being relatively early on the third and last day of music and sun-drenched revelry.
Read more >>

June 30, 2008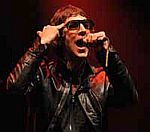 The Verve brought the curtain down on the 2008 edition of the Glastonbury Festival last night (June 29th) with an unforgettable set, which included an attack the event's organiser Michael Eavis. Performing in front of a packed crowd on the Pyramid Stage, frontman Richard Ashcroft said that the band, who reformed last year, hadn't been Eavis's number one choice to headline.
Read more >>

June 30, 2008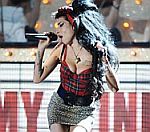 Amy Winehouse will not face action after she lashed out at a fan during her performance at last weekend's Glastonbury Festival. Police say they have received no complaint over the incident, which happened when the singer went to greet members of the audience during a rendition of 'Rehab'.
Read more >>

June 30, 2008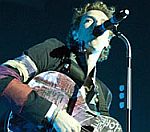 Coldplay have held onto the number one spot on the UK album charts with 'Viva La Vida or Death and All His Friends'. The band's fourth album, already one of the fastest selling in chart history, is spending its second week at the chart summit.
Read more >>

June 30, 2008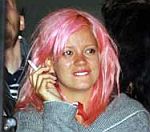 Lily Allen has confirmed that work has finished on her as-yet-untitled second album. The singer, who made a surprise appearance at the Glastonbury Festival yesterday (June 29th), said she is scheduled to deliver it to her record label this week.
Read more >>

June 30, 2008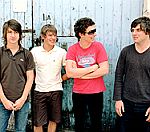 Arctic Monkeys guitarist Jamie Cook has advised Amy Winehouse to take a career break in order to overcome her personal problems. The guitarist said the singer had a "fantastic talent" but "shouldn't be on stage when she's in such a state."
Read more >>

June 30, 2008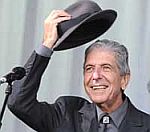 Veteran performer Leonard Cohen praised the "angels born of the mud" during his performance a the Glastonbury Festival yesterday (June 29th).
Read more >>

June 30, 2008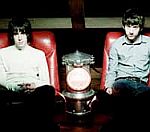 The Last Shadow Puppets, the side project of Arctic Monkeys frontman Alex Turner and Rascals singer Miles Kane, have announced their debut world tour.
Read more >>

June 30, 2008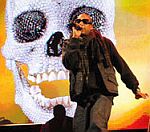 US rapper Jay-Z says Noel Gallagher should have watched one of his live shows before declaring that hip-hop music was "wrong" for Glastonbury. The Oasis guitarist voiced his concern about Jay-Z's appearance at the festival earlier this year, saying the rapper had "no chance" in front of the event's crowds.
Read more >>

June 30, 2008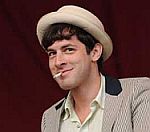 Mark Ronson has compared the moment Amy Winehouse lashed out at a fan at the Glastonbury Festival to sibling rivalry. Winehouse appeared to throw a punch at a member of the audience towards the end of her set on Saturday (June 28th).
Read more >>

June 30, 2008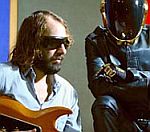 Sebastian Tellier's third release, 'Sexuality' will be release through French label Record Makers in the US. The album will be available for pre-release exclusively at American Apparel stores across the country beginning July 22nd and will be followed with a full album release in October.
Read more >>

June 30, 2008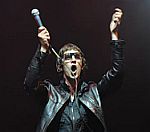 The Verve have made a brand new song, entitled 'Mover', available for free via their website. The song is not due to feature on the bands new album 'Forth', which is released in August.
Read more >>

June 30, 2008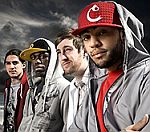 The kings of alternative hip-hop, Gym Class Heroes, have announced the release of their third album, 'The Quilt'. The album will be released on September 9th via Decaydance/Fueled By Ramen in the US preceded by the single, 'Cookie Jar', which will be available for digital purchase beginning July 8th.
Read more >>