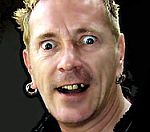 Sex Pistols
frontman John Lydon has launched a vicious attack on
Coldplay
, comparing the group to "men in anoraks."
In an interview with the Sun newspaper, Lydon said that he felt sorry for the "poor bastards" that have to watch the band.
"They are utterly humourless. I met them a few years ago, said hello and realised they were just men in anoraks," Lydon said.
"They looked like a gang of little poncy masturbators.
Although he said that the band's songs have "a couple of quite nice tones here and there", Lydon criticised the people who buy them, calling them "slightly inadequate, half-baked people."
Lydon's comments came backstage at the Isle of Wight Festival, where the Sex Pistols headlined on Saturday (June 17th).
The singer also spoke about the possibility of the a new album from The Sex Pistols, which would be only their second studio LP.
"There could be a new record. That would be nice," he said. But I won't do anything in a patronising way.
"The music, the subject and the attitude all have to be right at the same time. Everything has to be from the heart."
(by Jason Gregory)