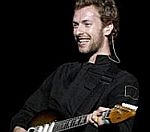 Coldplay
's new album '
Viva La Vida
' looks set to become one of the fastest-selling albums in chart history after selling 125,000 copies on its opening day.
The band's fourth album was released yesterday (June 12th) and is expected to sell upwards of 500,000 copies before the Sunday chart deadline.
The album is seen as a crucial record for the band's record label, EMI, who have lost a host of big name acts since being taken over by private equity company Terra Firma.
The company is one of a number of record labels to be affected by the growing problem of illegal downloading.
As previously reported, Coldplay's frontman Chris Martin stormed out of an interview to promote the album, which was broadcast on BBC Radio 4 last night.
Martin appeared under pressured when asked about the lyrical content and imagery of the new album.
(by Jason Gregory)