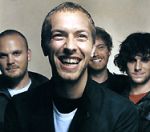 Coldplay
's collaboration with
Kylie Minogue
was "too sexy" to put on the band's new album, according to frontman Chris Martin.
Martin revealed that the label mates had worked on a song together last month but at the time didn't say why it hadn't been included on the new record.
Asked today (June 2nd) why it hadn't made the album in a new interview, Martin told Q: "Well, its just too sexy. At this point we cannot be that sexy, also we haven't quite finished it.
"It's a song called 'Lunar' and Kylie is particularly brilliant on it."
Martin said that the song would "100% see the light of day", adding: "I'm going to tell you exclusively that it will be on a record that we will put out at the end of next year."
"It'll be track nine I imagine and then track ten will be a song called 'Life In Technicolour' which is the song of a piece that we put on this album and it will neatly wrap up things for the end of the decade."
Coldplay's new album 'Viva La Vida or Death and all his Friends' will be released on June 12th.
(by Jason Gregory)