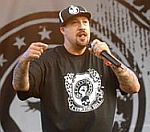 Cypress Hill
rapper
B-Real
says he doesn't consider
Guns N' Roses
to exist in their current line-up.
Frontman Axl Rose is the only original member still performing with the group following the exodus of several members including guitarist Slash.
The singer was also behind their most recent release 'Chinese Democracy' in 2008.
In an interview with the New York Hard Rock Examiner, B-Real conceded he was a Guns N' Roses "purist", and said he had stayed clear of listening to their new record.
"I liked Guns N' Roses in the old form. Right now they're just Guns. Or actually they're just Roses, no guns," he said.
"'Till he [Axl Rose] puts the rest of the guys back there, that shit is not Guns N' Roses. Just 'cause he owns the name means nothing."
It is not the first time B-Real has criticised the band.
As previously reported, Guns N' Roses will headline the Reading and Leeds festival in August.
(by Jason Gregory)