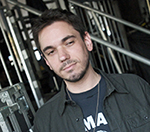 DJ AM will make a posthumous appearance in Iron Man 2, it has emerged.
The DJ, real name Adam Goldstein, plays himself during a club scene involving Robert Downey Jr.
Director Jon Favreau told the LA Times that after much deliberation he had decided to leave the segment in the film.
DJ AM died last September of an accidental drugs overdose at the age of 36.
"I was just a fan of his, just an admirer of his work, and it was supposed to be a one-day bit," Favreau said.
"But Robert [Downey Jr.] took a real shine to him, as we all did. His energy was amazing, he was such an inspiring guy and there was a lot of depth to him and this positive energy."
DJ AM will also receive a credit at the end of the film
Iron Man 2, which also stars Gwyneth Paltrow and Don Cheadle, is released on April 30.
(Gigwise)