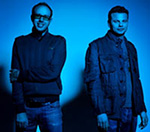 The Chemical Brothers
have defied the European flying ban caused by the Icelandic Volcano Ash thanks to a private airline company.
Charter airline Hangar8, which charges up to £3,000 an hour for use of its ten-seat jets, claims that the danger of flying has been "blown out of all proportion."
Tom and Ed from The Chemical Brothers used the service to jet to Milan and back from a private UK airport over the weekend.
Hangar8 chief executive Tom Gillespie told Metro.co.uk: "We have managed to get more than 100 people around over the past couple of days, while commercial flights have been grounded.
"We've had calls from people who don't normally think about chartered flights. We wouldn't fly if it wasn't safe but it is."
The Icelandic volcano ash caused Gary Numan, Frightened Rabbit, The Cribs, Delphic and Bad Lieutenant to cancel their shows at Coachella over the weekend.
Meanwhile, this morning Crystal Castles announced they have axed their show at Heaven in London tomorrow (April 20) as they can't get into the country.
(by Scott Colothan)