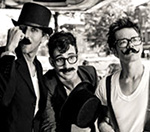 fun.
have revealed that their debut album '
Aim & Ignite
' will be released on June 7.
The New York-based group's first record will be accompanied by exclusive bonus live content, recorded during an in-store performance in California.
'Aim & Ignite' will be preceded by the single 'All The Pretty Girls', which is due out on May 31.
Meanwhile, fun. have also announced details of a series of UK shows in May, which include appearances at the Stag & Dagger festival in Glasgow and the three-day Dot to Dot festival.
Tickets are on sale now.
The tracklisting for 'Aim & Ignite' is:
Be Calm

Benson Hedges

All the Pretty Girls

I Wanna Be The One

At least I'm Not As Sad (As I Used To Be)

Light A Roman Candle With Me

Walking the Dog

Barlights

The Gambler

Take Your Time (Coming Home)
UK Bonus Content:
Intro (Live @ Fingerprints)

Walking The Dog (Live @ Fingerprints)

All The Pretty Girls (Live @ Fingerprints)

Interlude (Live @ Fingerprints)

The Gambler (Live @ Fingerprints)

At Least I'm Not As Sad (As I Used To Be) (Live @ Fingerprints)

Take Your Time (Live @ Fingerprints)
fun.'s UK tour dates are:
Leeds, Cockpit 2 - May 23

Brighton, Prince Albert - 24

London, Kings College - 25

Kingston, New Slang - 27
(by Jason Gregory)