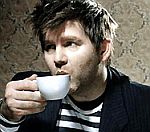 LCD Soundsystem
contributor Al Doyle has denied that the dance act have disbanded, as he suggested earlier this week.
On Tuesday, Doyle was quoted as saying the group, led by James Murphy, had dissolved in order to concentrate on a new outfit.
However, in a statement today (November 19th), Doyle said: "I would like to clarify that LCD have not disbanded, nor could the entity be disbanded in the sense that it has always had a revolving cast of players – it would be like saying that The Fall had disbanded, or Prince has split up.
"LCD Soundsystem is James Murphy, and he's allowed to take time off, do other things, and come back, or not come back. And he doesn't have to tell you or anyone else about it.
"I didn't know if anything was going on with LCD next year, which is the truth, and that's all I should have said, but I gabbled on a bit because that's the way I am..."
Doyle, who plays guitar in the group, said yesterday that LCD Soundsystem's members would be regrouping next year to explore a new project involving 70s disco singers from New York.
Last month, Murphy revealed that he was creating a new "classic rock" band.
As well as Murphy, the band consists of former Hockney Night members Scott Wells and Paul Sprangers, and drummer Pat Mahoney.
(by Jason Gregory)