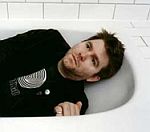 LCD Soundsystem
, the dance act created by James Murphy, has been put "on permanent hold", according to guitarist Al Doyle.
Doyle, who also plays with Hot Chip, said the group would instead focus on a new project involving 70s disco singers from New York.
"I don't think James is going to do anything more under that name," he told BBC 6Music. "I think he'd like to do something with the same personnel possibly next year."
"We were thinking of doing something where we find a lot of the old disco singers in New York that might still be around from the 70s, and get them in as guest vocalists with LCD as a backing band, and tour around as a disco heroes style show.
"It's just an idea that we had. God knows if we'll make it happen."
Last month, Murphy revealed that he was creating a new "classic rock" band.
As well as Murphy, the band consists of former Hockney Night members Scott Wells and Paul Sprangers, and drummer Pat Mahoney.
(by Jason Gregory)