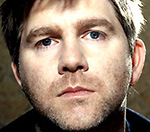 LCD Soundsystem
are set to release a live album, 'The London Sessions', later this week.
The nine-track album will be available on iTunes for a limited one month period from November 6.
Taken from one days recording at the Pool/Miloco Studios in South London on June 29, the sessions include favorites 'All My Friends', 'Daft Punk Is Playing At My House' and 'Drunk Girls.'
Meanwhile, the band kick off their co-headline UK tour with Hot Chip next Wednesday (November 10) at London's Alexandra Palace.
The tracklisting for 'The London Sessions' is:
Us v Them

All I Want

Drunk Girls

Get Innocuous

Daft Punk is Playing at My House

All My Friends

Pow Pow

I Can Change

Yr City's a Sucker
(by Holly Frith)