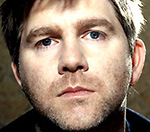 LCD Soundsystem
frontman James Murphy was forced to use medication to overcome voice problems as the band kicked off their UK tour in London last night (November 10).
The group showcased their latest album 'This Is Happening' at Alexandra Palace, and also included several songs from their back-catalogue.
Kicking off their set with 'Dance Yrself Clean', Murphy revealed that he had lost his voice during the band's recent European dates.
"Thank you very much – this is a very nice experience for us," he said. "I have to put an asterisk next to this show because I took steroids to get through this show."
LCD Soundsystem's set, which started more than half an hour later than billed, focused mainly on new songs, including 'Drunk Girls', 'I Can Change' and 'You Wanted A Hit'.
But the band also entertained fans with classic tracks 'All My Friends', 'Tribulations' and 'Someone Great', which featured during their encore.
Earlier in the night, co-headliners Hot Chip warmed up the crowd with an energetic set, which fused songs from recent album 'One Life Stand' with fan-favourites 'Ready For The Floor' and 'Over And Over'.
LCD Soundsystem and Hot Chip's UK dates continue tonight (November 11) at the Coronet in London, before touring.
(by Jason Gregory)