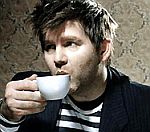 LCD Soundsystem
's final gig will be released as a live DVD.
The band, fronted by James Murphy, played their final show at Madison Square Garden on April 2.
The frontman revealed that the show was filmed and will be released as a live DVD in the near future, reports Rolling Stone.
Their final gig included a surprise appearance from Montreal-based band Arcade Fire. Arcade Fire's Win and Will Butler, Régine Chassagne and Jeremy Gara accompanied LCD Soundsystem as backing singers on 'North American Scum'.
LCD Soundsystem's set was:
Dance Yrself Clean

Drunk Girls

I Can Change

Time to Get Away

Get Innocuous!

Daft Punk is Playing at My House

Too Much Love

All My Friends

Tired

45:33 Part One

45:33 Part Two

Sound of Silver

45:33 Part Four

45:33 Part Five

45:33 Part Six

Freak Out/Starry Eyes

Us V. Them

North American Scum

Bye Bye Bayou (Alan Vega cover)

You Wanted a Hit

Tribulations

Movement

Yeah

Someone Great

Losing My Edge

Home

All I Want

Jump Into the Fire (Harry Nilsson cover)

New York, I Love You But You're Bringing Me Down
(by Holly Frith)