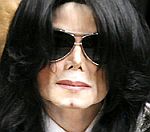 A new
Michael Jackson
track will be aired as part of a legal case against the singer, a court has heard.
Jackson is being sued for £4.7million by the son of the King of Bahrain who claims he breached a contract between the pair.
Sheikh Abdulla Bin Hamad Bin Isa Al-Khalifa housed Jackson in Bahrain after he was acquitted of child molestation charges in 2005.
In return for his hospitality, the Sheik claims Jackson agreed to record new material at a purpose built studio at his former Neverland home, write an autobiography and put on a stage show.
London's High Court heard today (November 17th) how the pair developed a "close personal relationship" during Jackson's stay.
The Sheik's lawyer Bankim Thanki said a track Jackson recorded would be played to the court during the 12-day trial.
Jackson has contested that a deal was struck between the pair and said the financial donations were "gifts".
The Sheik's case is based on "mistake, misrepresentation and undue influence", he added.
According to the BBC, an application has been made for Jackson to appear via video link from America.
As previously reported, Jackson last week lost ownership of his Neverland Ranch.
(by Jason Gregory)